This garlic soup made out of about 50 garlic cloves, thyme, and red onion will help you with the majority of influenza viruses, flues, and colds. Simple and healthy, you will love how this soup tastes.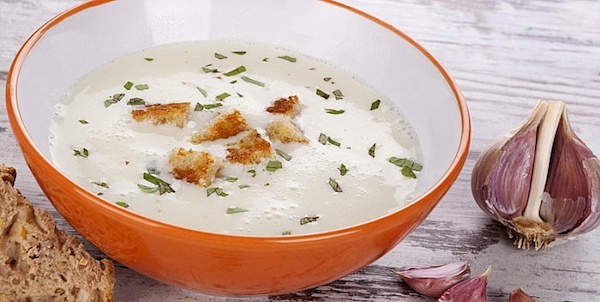 Antibiotics are one of the most common medicines we use, and they don't always work like we want them to. People are changing back to nature and because viruses and bacteria are getting stronger from day to day.
Washington University research has shown that garlic is 100 times more effective than two popular antibiotics at fighting disease, caused by bacteria, which is often responsible for diseases transmitted by food. Smashed clove of garlic has allicin, an ingredient that helps with high cholesterol and blood pressure, and it also fights bacteria and viruses.
If you want to be healthy and strong all the time, try making this magical soup.
You will need:
About 50 garlic cloves (that's about 5 garlic heads)
2 tablespoons butter
2 tablespoons olive oil
2 large onions, chopped
1 tablespoon chopped fresh thyme
6 cups (250 ml) chicken clear soup (broth)
1 bunch of fresh herbs – parsley, thyme, bay leaves (you can also use dried spices)
3 cups stale bread, cut into cubes
1 cup of cream
Direction:
Heat the oven to 180C. Cut the tops (1/3) heads of garlic. Sprinkle prepared garlic with olive oil and wrap in aluminum foil. Bake in the oven in a pan for 90 minutes. Leave to cool.
During this time heat up 2 tablespoons olive oil and butter in a saucepan over medium heat. Sauté onion (mix it often). Simmer 10 minutes.
Add cooled garlic to the saucepan with onion, mix, add the chopped thyme, broth and place a bouquet of fresh herbs (or use dried, but put less of it).
Reduce the heat, add the pieces of bread and allow to simmer for 5 minutes until the bread is soft.
Remove the bouquet of herbs, and the resulting soup mix in a blender until you get a smooth mixture. Return to the pot, and pour plain cream or sour cream for cooking, and add salt and pepper to taste.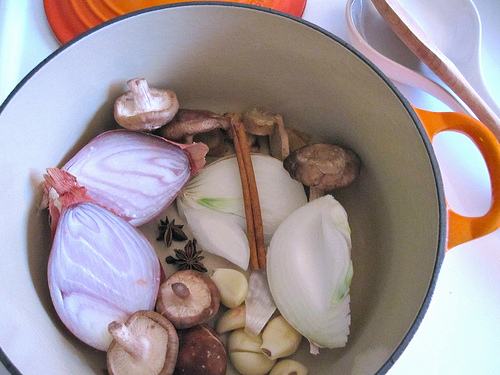 Here is another tasty and healthy soup
You will need:
1 red onion
1 green chili pepper
4 cloves garlic
5 cm long piece of ginger
2 sweet potatoes, medium size
500 g shiitake mushrooms
Goji berries (optional)
Stock (broth) of vegetables
Chop the onions, chili peppers, garlic and cleaned ginger. Add to the pan with the olive oil and add a little salt. Sauté until the onion is soft. Insert the chopped shiitake mushrooms and sweet potato (and goji berries if you want). Mix well, then pour in vegetable broth as much as necessary to cover the ingredients. Allow to simmer until potatoes are soft.
After that, all mix in a blender and serve warm.