Eggs are rich in fatty acids and proteins. They are great for fill in the deficits of keratin in the hair shafts. Minerals included in the eggs like sulfur, iron, phosphorus, zinc and vitamin E are essential for normal hair growth and they boost hair growth.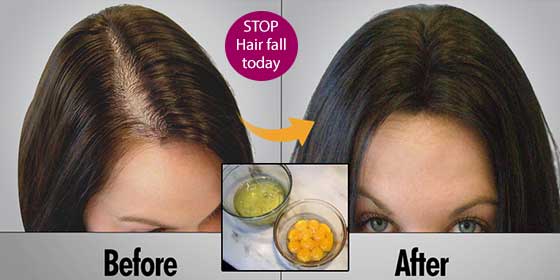 Olive oil keep clean the scalp and provide ideal environment for normal hair growth. It is rich in antioxidants which ensures healthy scalp.
Additional ingredient included in our recipe is plain yogurt. It is great when it comes keeping clean your scalp of dead cells and unclogging hair follicles. Plain yogurt is great against dandruff.
Things you'll need:
1 Egg (supplies keratin)
2 tsp Plain yogurt (scalp cleanser)
1 tbsp Lemon juice (antibacterial)
1 tsp Olive oil (antioxidants)
Step 1. Put all of the ingredients in a bowl
Step 2. Mix the ingredients and use the hair mask once a week
Blend the ingredients with kitchen blender until you get fine paste
Apply the paste on your scalp and then on your hair with cosmetic brush. It will be absorbed better, if your hair is damp.
After 30 minutes, remove the mask with lukewarm water
Shampoo your hair as usual
Repeat the treatment once a week. It will boost keratin levels of your hair and promote improved hair growth