Can't find a suitable place to store your grocery bags? Be a little more eco-friendly with this grocery bag dispenser tutorial.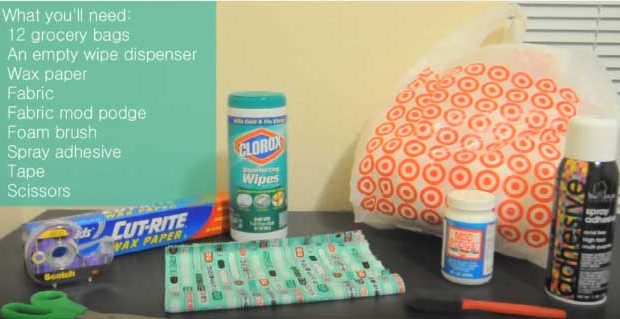 What You Will Need?
An empty wipe dispenser
12 grocery bags
Wax paper
Fabric
Fabric mod podge
Foam brush
Spray adhesive
Tape
Scissors
Fold each grocery bag in half, squeezing out the air. Line up the bags, so their handles are overlapping. Roll them together with the handles sticking out. Put the bags in the wipe dispenser. And thread the handle through the top. The dispenser is ready, you will just have to decorate it!
Cut the fabric to roughly fit the dispenser size and apply a thin coat of mod podge on the fabric and let it dry. Trim the fabric to size and use the spray adhesive to attach the fabric to the dispenser. There you have it! Cute and handy!