While there is no best kind of beverage to drink while following a Ketogenic Diet, there are certainly kind of beverages that are carb-free or very low in carbs. Check out a few ideas in the lists below: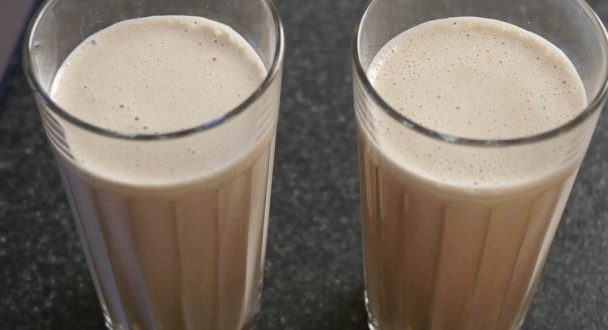 Bawdy Margarita (148 calories 3 carbs)
2 oz tequila
1 1/2 oz lime juice
2 oz simple syrup (made with Splenda and "infused" with orange extract)
1 1/2 oz water
Ginger Mint Tea
fresh ginger, peeled
3-4 fresh mint leaves
small piece of lemon peel
hot water
Splenda if desired.
Cut a chunk of freshly peeled ginger, the size of a thumb nail and put in a mug of hot water. Add fresh mint leaves, and a small piece of lemon peel. Let steep for 3 minutes.
Coffee(8 carbs)
8 oz. double-strength decaf coffee
2 T. DaVinci SF Caramel syrup – >1g carbs
1 T. heavy cream
2 scoops vanilla whey protein powder – 6g carbs
1 tsp. Splenda – >1g carbs
8 large ice cubes
Hot Chocolate!(3-5carbs)
1 tblsp Heavy Whipping Cream
1/2 tblsp of Unsweetened Cocoa Powder
2 packets of Splenda
Water – See below
tblsp of Whipped Cream (optional)Add Heavy Whipping Cream in microwave safe mug. Add water until desired amount fills mug. Heat in microwave about 1 min.
Add cocoa, splenda and whipped cream. Enjoy!
LC Chocolate smoothie 4-5g
Heat in small pan, melt and stir
½ cube unsweetened chocolate -2g carb
1tsp oil (sunflower is best) -0g carb
1Tbsp butter -0g carb
1Tbsp cream -.5g carbBlend to slush first:
1Tbsp chocolate flavored syrup -0g carb
.5 C ice (heaping) -0g carb
.5 C water -0g carbMix in cup first:
2T soy protein isolate powder -0g carb
2T soy/egg/milk protein powder -2g carb
¼ tsp xanthan gum -0g carb
1 packet sweetener -0-1g carbAdd everything to blender. Add more water if too thick
Pumpkin pie protein shake
1/2 c heavy cream
1/4 c canned or cooked pumpkin
1 tsp pumpkin pie spice
1 scoop unflavored whey powder (may also work with vanilla flavored)
4-6 ice cubesI also use a raw egg to up the proteinBlend until smooth!
Low-carb Pumpkin 'Ice Cream' Protein Shake
Ingredients:
1 serving vanilla protein powder (I used EAS Simply Protein powder, Vanilla Cream flavor which has 3 carbs per 2 scoop serving.)
1 cup water
4 ice cubes
1/4 cup pumpkin (2 carbs)
1 tbs. heavly cream (1 carb)
1 packet Splenda (1 carb)
1/2 tsp vanilla
Splash of Davinci gingerbread sugar-free syrup
Cinnamin & Nutmeg to taste.Blend all ingredients together until ice is crushed and shake well-mixed, creamy, and frothy. Garnish with a sprinkle of nutmeg. Enjoy!!!
Orange Creamsicle Drink
1 or 2 scoops of Vanilla Whey Protein Shake Mix
1 cup orange sugar free soda ( can use other flavor if you like)
1 cup of crushed ice
dash of splenda or heavy cream whichever you preferMix this all in blender add more soda or more ice to make consistancy you like and then blend it up and drink.
Super Awesome Mocha Shake
In a blender:
1.5 glasses of filtered water
1 scoop of coffee grounds (noticing now that I should have did a bit less, twittery)
2 tablespoons of olive oil (for fats)
1 scoop of ON 100% casein chocolate supreme protein powder
1 scoop of ON 100% whey double rich chocolate protein powder
2 teaspoons of BenefiberStats:
240 calories, 24g fat, 00g protein, 0g net carbs (olive oil)
240 calories, 02g fat, 48g protein, 6g net carbs (protein powders)
015 calories, 00g fat, 00g protein, 1g net carbs (Benefiber)495 calories, 26g fat, 48g protein, 7g net carbsNotes:* Not sure of the stats for ground coffee, yet probably a gram or two of carbs.
* Would the 1g net carbs of Benefiber also offset the net carbs of the whole shake?
* Makes two glasses to drink.
Double Duty Cream Brulee Ice Coffee
1 cup of cooled Gevalia Cream Brulee Coffee (use your favorite coffee – I make mine the night before so it has time to cool)
1 tsp. SF Davinci Kahula & Cream
1 tbls of heavy whipping cream
1 scoop of Designer Whey French Vanilla Protein Powder
2 tbls of Bob Mills Ground Flaxseed – gives it a nice nutty flavor & plenty of fiber or you can use a taste free dissolvable fiber mix if you don't like ground flaxseed.
1 cup of crushed iceMix in blender & enjoy!
LC Raspberry Mojito
1tbsp. crushed mint
1/4c Stolichnaya Rasberry Vodka
4 oz club soda
2tsp. sweetener
1/4 lime squeezed into drink
Brave Bull
2 oz of vodka
1 beef bullion cube
9 oz of hot watersquirts of tabasco
(this is excellent for thermos's, tailgate parties, clam bakes, hot tub)Make the hot water and beef bullion until all bullion is dissolved.
Add the vodka and tabasco and drink out of a mug!
What's your favorite Keto Beverage? Tell us more on our facebook fan page.