Aloe Vera, a plant species of the genus Aloe, has been used for thousands of years in medicine and traditional home remedies for its health benefits.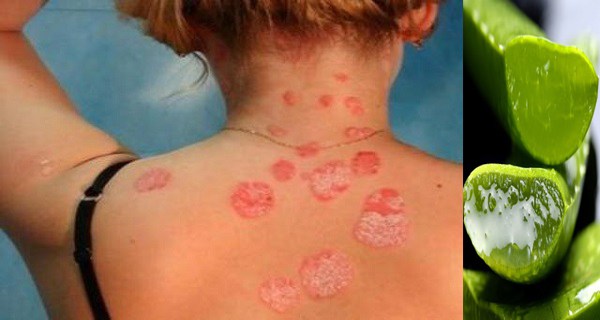 Since it has antibacterial, antioxidant and anti-inflammatory properties, it has mostly been used as a topical treatment for various skin problems, including burns and itchiness. In more recent years, Aloe has even been used to treat more serious skin problems like dermatitis and psoriasis.
Aloe Vera Gel and Psoriasis
The leaves of this beautiful plant produce two substances: gel and latex. Here, we're interested in aloe gel, found in the middle of the plant's leaves, as it has been traditionally used as a skin remedy.
Some studies have shown that aloe vera gel helps wound healing, dry skin, and dermatitis. For this reason, animal studies have been conducted in order to find out if it helps psoriasis too. These have shown that aloe vera extract and gel slow down the release of pro-inflammatory hormones and histamine, both of which can trigger itching and redness, linked to psoriasis.
All in all, many studies have proven that applying aloe vera gel topically to the skin does indeed decrease skin inflammation and is, therefore, good for psoriasis and dermatitis. However, it's important to note that when applying (or consuming the juice) aloe vera, high-quality aloe vera gel needs to be used.
Here are just some of the benefits of applying high-quality aloe vera gel  to the skin:
Aloe moisturizes the skin, forming a protective layer;
With its anti-inflammatory, antibacterial and antifungal properties, aloe reduces inflammatory symptoms of dermatitis and psoriasis;
Since it's mostly made of water, aloe deeply hydrates the skin;
It stimulates new cell growth.
Other Health Benefits of Aloe Vera
Besides being an excellent topical treatment, Aloe can also be consumed. It contains various vitamins and minerals that help strengthen the immune system and improve overall health. Rich in vitamins C, E, A, and B, as well as minerals such as magnesium, calcium, copper, iron, zinc and chromium, Aloe Vera is an immunity booster.
Some studies have shown that Aloe can improve insulin sensitivity and is, therefore, a good food choice for those with insulin resistance and diabetes;
Aloe Vera (latex) successfully treats constipation;
It eases stomach ache and acid while encouraging normal stomach lining;
Aloe is good brain food as it supports memory and learning abilities.