Did you know: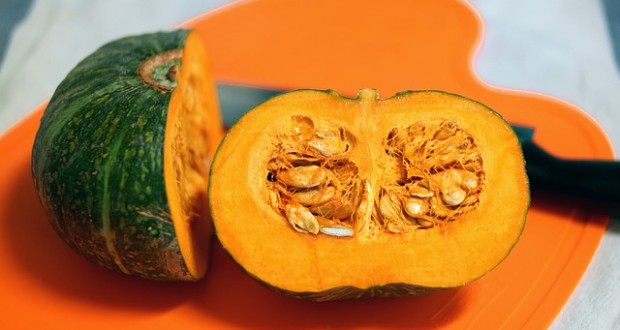 The pumpkin is botanically a fruit, and each one boasts about 500 seeds.
There are more than 45 different pumpkin varieties, ranging in color from green to yellow to red.
Some varieties of giant pumpkin can grow at a very rapid rate, increasing by as much as 10 pounds a day!
Antarctica is the only continent where pumpkins can't grow.
Here's something else you may not know about pumpkins: they are a very healthful food full of bone-smart nutrients. In fact, pumpkins are a Foundation Food for silicon in the Save Our Bones Program.
In addition to silicon, pumpkins boast potassium, magnesium, Vitamin A, calcium, zinc, Vitamin E, and plenty of fiber. And they taste wonderful!
The following recipes are a scrumptious way to celebrate Halloween while getting the bone-healthy benefits of this fascinating gourd.
1. Monster Muffins
There's nothing to get spooked about with these gluten-free muffins. They are reminiscent of gingerbread with a nutty crunch.
10 muffins
pH-balanced
Ingredients:
1 ½ cup almond flour
1 teaspoon baking soda
1 teaspoon pumpkin pie spice
2 eggs
3/4 cup cooked pumpkin puree (if you use canned pumpkin, make sure it's BPA-free)
2½  tablespoons melted coconut oil
1 teaspoon vanilla extract
1/4 cup honey (adjust to taste)
1/4 cup slivered almonds
Instructions
While preheating oven to 350° F, in a bowl, whisk together the flour, baking soda, and pumpkin pie spice.
In a separate bowl, lightly beat the eggs. Then add them to the flour mixture along with the pumpkin, coconut oil, vanilla, and honey. Mix until well combined.
Spoon the mixture into 10 greased muffin cups and sprinkle the slivered almonds on top.
Bake for 20 – 25 minutes or until a toothpick or fork comes out clean.
Allow to cool and serve.
2.Grisly Granola
8 Servings
Acidifying (balance with alkalizing fruits and/or plain yogurt)
Ingredients
3 cups rolled oats
1/2 cup walnuts, chopped
3/4 cup pumpkin seeds
1/4 cup flax seeds
1/4 cup coconut oil, liquefied
1/3 cup honey
1/2 tablespoon pumpkin pie spice
2 teaspoons cinnamon
1/4 cup pumpkin puree
1/2 cup dried cranberries
Instructions:
Preheat oven to 325 degrees.
In a large bowl mix the oats, walnuts, flax, pumpkin seeds and spices.
In a small bowl, whisk the honey, coconut oil and pumpkin puree until well combined.
Pour contents of the small bowl into the large bowl, and stir until the oat mixture is completely coated.
Spread out evenly on a parchment-lined baking sheet.
Bake for 20-30 minutes, until color turns golden and mixture is lightly toasted.
Stir every 7 to 8 minutes or so to make sure it browns evenly.
When mixture is toasted, stir in the cranberries and store in an airtight container.
3.Outrageous "Oatmeal"
4 Servings
100% alkalizing
Ingredients:
2 cups quinoa, cooked
1 cup unsweetened almond milk (or your favorite milk substitute)
1/2 cup pumpkin puree
2 tablespoons flax seeds
1/4 cup raisins (or your favorite alkalizing dried fruit)
1 teaspoon cinnamon
1/4 teaspoon ginger
1/4 teaspoon nutmeg
1 tablespoon honey (adjust to taste)
Instructions:
Combine the quinoa, milk, pumpkin, flax seeds, and raisins in a small pot. Simmer over low heat while stirring, until smooth and flax seeds soften up a little.
Remove from heat and mix in the spices and honey. Add a little milk to adjust consistency if desired, and serve.