Fish is the best choice for a healthy dinner. It can boost your mood and give you a healthy dose of protein.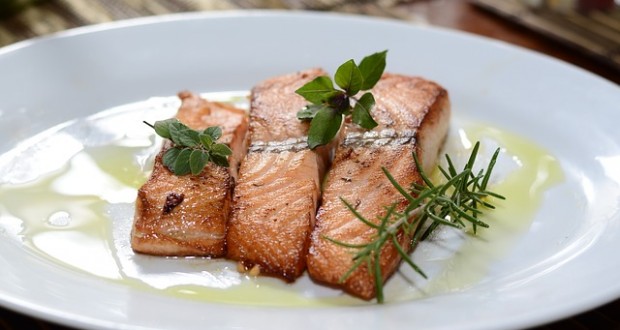 Salmon is not a mild-tasting fish, so a creamy sauce made of low-fat yogurt, mayonnaise, and herbs balances the flavors and makes the dish cool and refreshing. Here the fish is served on a bed of couscous flavored with the light, wine-based poaching liquid from the fish, eliminating the need for store-bought broth, which is usually high in sodium.
Salmon with Tarragon Mayo
Preparation and cooking time: 35 minutes
You Will Need
Salmon
4 (4 ounce) salmon steaks or fillets
1/2 cup dry white wine
1 to 2 bay leaves
Strip of pared lemon zest
Mayonnaise
4 tablespoons low-fat mayonnaise
1/2 cup plain low-fat yogurt
Finely grated zest of 1 lemon
2 tablespoons chopped
Fresh tarragon
Couscous
1 cup couscous
4 tomatoes, roughly chopped
3 scallions, chopped
2 cups watercress, roughly chopped
1 tablespoon olive oil
Juice of 1 lemon
Salt and pepper
What to Do
1. Place the salmon in a deep-sided, nonstick skillet. Pour the wine over it and add the bay leaves, lemon zest, and seasoning to taste. Bring to a boil, then reduce the heat, cover, and poach the salmon until just cooked, about 5 to 6 minutes. It should still be very slightly translucent in the center.
2. Meanwhile, stir together the mayonnaise, yogurt, grated lemon zest, and tarragon. Season lightly with salt and pepper and spoon the mixture into a serving bowl.
3. When the fish is cooked, drain off most of the cooking liquid into a measuring cup, and add enough boiling water to make 1 1/2 cups. Cover the pan with a lid to keep the salmon warm, off the heat.
4. Pour the diluted fish broth over the couscous in a bowl and leave for 3 to 4 minutes for the liquid to be absorbed. Fluff up the couscous with a fork and stir in the chopped tomatoes, scallions, and watercress. Drizzle the olive oil and lemon juice over it, and stir to blend everything together. Season slightly with salt and pepper.
5. Serve the warm salmon with the couscous salad and the tarragon mayonnaise.
Serves 4
Some More Ideas
Low-fat sour cream can be used for making the sauce in place of the yogurt and mayonnaise.
For a watercress sauce, replace the tarragon with 1/4 cup chopped watercress.
Special occasions: Cook a whole salmon and serve it garnished with twists of lemon and sprigs of fresh tarragon. To cook salmon, season and wrap loosely in a large sheet of foil coated with cooking spray, then bake in a preheated 350°F oven until fish flakes easily with a fork, allowing 10 minutes per pound.
Plus Points
Combining mayonnaise with plain low-fat yogurt makes a lighter sauce that is lower in calories and fat than mayonnaise alone.
Incorporating low-fat dairy products into sauces and soups is a good way to increase calcium and protein intake.
Exchanges: starch 2 1/2, vegetable 2, meat (lean) 3, fat 1
Nutrition Facts
Per serving: calories 463, calories from fat 138, fat 15g, saturated fat 3g, cholesterol 73mg, sodium 247mg, carbohydrate 46g, fiber 4g, sugars 11g, protein 33g. Excellent source of niacin, phosphorus, potassium, riboflavin, thiamine, vitamin A, vitamin B6, vitamin B12, vitamin C