Would you like to have healthier and prettier skin?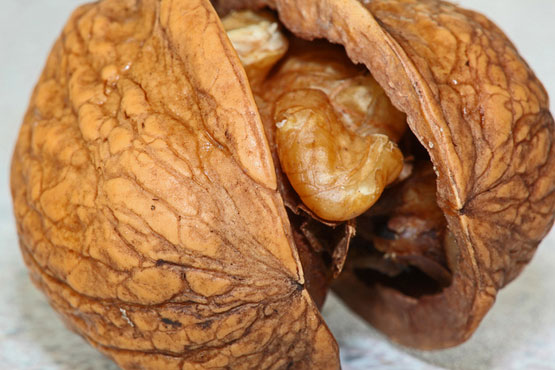 Do you have problems with the hair?
Do you try to find ways to delay wrinkles creation?
You don't have to spend a fortune to solve these problems. Use walnut, number one in serving beauty among the nuts.
Rich with protective nutrients
The walnut is rich with antioxidants, miraculous ingredients in our body that protect us from again, help in tissues restoration, prevent diseases and help the immune system.
It contains many complex nutritive things that are the basis for healthy skin and hair.
It is full of copper which makes the skin stronger, manganese that maintains the health of the tissue and zing that eliminates the dryness of the skin.
Essential aminoacids build the hair and the skin, making them resistant to damage.
With other nutritive ingredients, it also contains vitamin E. When orally consumed, this vitamin initiates better healing and recovery of the skin and hair.
Eating only 7 pieces of walnut a day will help with collecting the healing properties of the walnut in the service of beauty.
External use is great for damaged exterior layer of the skin and preventive care against wrinkles.
Walnut oil is a natural product for prevention of wrinkles, psoriasis treatment and healing fungus.
Its regular use accelerates the hair growth, it stops baldness from appearing and gets rid of dandruff.
6 Ways to use walnut
Use the walnuts during their season to prepare these simple cosmetic products and give a natural luxury to your body which will be grateful for the treatment.
Nutritive mask for the face and the neck
Grind one cup of walnuts and mix them with a bit of organic milk.  Make a mask, apply it on the area. Leave it to work for 20 minutes and rinse.
If you prefer you can add a teaspoon of oil or lemon juice.
Mask for radiant skin
Make a paste of 4 walnuts, 2 tablespoons of oats, one tablespoon of honey, one teaspoon face cream and 4 drops of olive oil. Apply it on a clean skin. After it has dried off, rinse it with lukewarm water, massaging the face with circling moves.
Tincture for hair strenght
Grind 3.5 oz. of walnuts and pour a liter of 96% alcohol over them.
Close the container and leave it for 2 weeks at a warm place. Use the product every night to massage the scalp and then wash your hair. This will make your hair stronger, prevents dandruff and hair from falling out
Walnut shell pilling
Grinded walnut shell is great for face and body piling. Pilling removes death skin layers and helps it to look better.
Use this pilling regularly to make your skin instantly softer and shinier. Recommended use is twice a week.
You can add this pilling in other pilling lotions, cleansing lotions or shower gels.
To prepare the pilling, mix a teaspoon of nicely grinded walnut shells with yoghurt and lemon juice. Apply it on the skin and softly rub it for a few minutes, rinsing later.
Depending on the needs of your skin, you can add avocado, apple juice, honey, cucumbers or olive oil.
Old Russian recipe against skin spots
Burn the walnut shells. Take a spoon of the ashes and cover it with a liter of water. Leave it for twelve hours. Take a cotton ball and soak it in the mix and then apply it on the affected area. It needs to be done few times a day.
For larger areas and darker skin parts, you can make a compression and keep it on for half an hour. Very quickly, the spots will start getting lighter and gradually disappear.
Walnut shelss hair dye
You can make a hair dye out of walnut shells that is good for tanning, refreshment of dark and covering the white hair.
Ingredients:
One oz. of dried nettle
1 oz. of grated walnut shell
One oz. of dried sage
One and a half liter of distilled water
2 spoons of jojoba oil
Boil the water, turn off the heat add the dried herbs and the shells. Leave it covered for 3-4 hours. Strain the liquid and add the jojoba oil.
You have the hair dye that you can store 3 weeks in the fridge.
Color use:
Shampoo and rinse the hair.
Use gloves so you can add half of the teaspoon directly on the scalp, and then on the whole hair.
Massage the dye in the hair and wrap the hair with a towel. Check the color intensity until you get the desired tone and then rinse well.
Maintaining the color:
Mix the same ration of mild shampoo and the homemade hair dye. Wash your hair with the mix every day for 2 weeks.
After this period, use this mix whenever needed.