There is only little known about the ability of young leaves and unripe fruits and their healing properties. They help with many diseases and they are most effective if harvested at the beginning of May. People call walnut a blood cleaner, and it is also good for treating lung diseases, intestine issues, strengthening muscles and vision. It is used in baths and as compress against infected wounds and eczema, skin diseases and eye inflammation.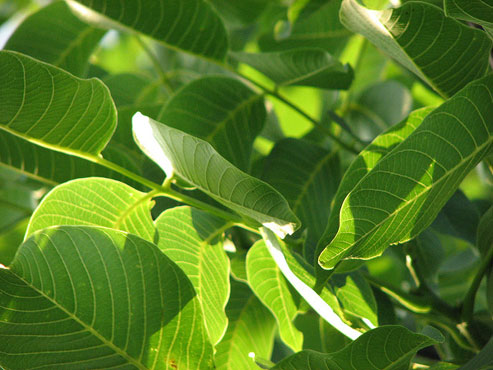 The oil is good for the hair and as a protector from sunburn. The core contains 65% oil, proteins, carbs, phosphorus, potassium, magnesium, vitamin B and C and iron. That is why it is a great antioxidant, laxative and anti-diabetic.
Its tea is especially efficient, which together with honey cleans and strengthens the organism, improving the overall health condition. It is used for digestion problems, bone pain, gum bleeding, gum diseases, purulent rash, excessive sweating of the feet and against vaginal secretion.
The leaf contains strong etheric oil of yellow color, tanning, bitter and spicy components. It is mainly gathered in June and July, when the weather is nice, but it is much better to use it while it is still green and fresh because it contains undissolved healing components. When drying, all of these are altering, so the leafs get darker color.
Young, green walnuts are excessive with vitamin C, so they are mixed with honey and they are given to sick people, weak children and anemic people. The ripe fruit have lots of oils and they are eaten either raw or cooked. They are a great choice of omega-3 fatty acids, responsible for lowering blood cholesterol.
Foot sweating
Chop 5 tablespoons of walnut leafs and pour two liters of water over them. Also, add a bit of young bark. Add this in boiling water and cook for 10 minutes. When the liquid is lukewarm, wash the legs with it. Do not wipe them off after washing, but let them dry off naturally.
Strengthening the hair
Get a machine for grinding walnuts and grind 10 tablespoons of the core and then add them in a liter of 96% alcohol. Close the bottle tightly and keep it in a warm place for two weeks. Massage the scalp with this liquid every night and dry the hair afterwards.
Against pain
Mix a liter of extra virgin olive oil with 10 tablespoons of chopped walnut leafs. Keep the mixture in a warm place for a month, making sure you shake it daily. After the time is up you can use it to massage painful areas.
With honey
When combined with honey, the walnut is an exceptional natural remedy because is supplies every necessary vitamin, minerals, proteins, fats and carbs the body needs. You can prepare it by mixing 500 gr of honey with the same amount of grinded walnuts and one lemon. This remedy is taken every two to four hours. Take one spoon at a time, until you recover.