This very tasty cookie is mentioned in the old records – were taken by warriors for strength before going into battle,while women ate it to stimulate hormonal glands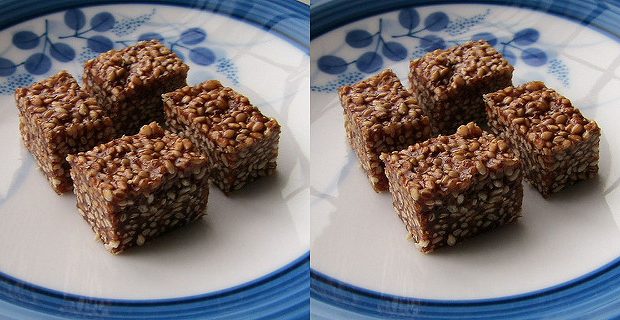 The desire for sweets among people is present from long time ago,the main difference is what we eat and what they ate long ago. We mainly reach for unhealthy sweets, full of sugar, chemicals and so on.
Some 6,000 years ago one of favorite delicacy in ancient Greece and the Middle East was – Intrion. It is a cookie made of only two ingredients – honey and sesame – that is so healthy and salutary that everyone should eat.
These cookies had lot of benefits among which:
the full set of vitamins and minerals,
contains antioxidants,
regulating blood lipids,
gives drain energy for hard physical labor,
reduced feelings of depression,
improves mood,
lowers stress
Recipe:
300 grams of pure paste of ground sesame seeds – called tahini
300 grams of honey
Preparation: Mix well and make balls or squares. Put them little in the refrigerator to squeezed – and that's it.
Tip: Tahini you can make yourself. You need hulled, raw sesame seeds, a little sesame oil (two spoons of oil going to half to one cup of seeds). Before blending seeds  fry them little in a pan until they get a golden color. Put them in a blender, add oil and blend until you got a smooth, thick paste.