This smoothie recipe is great for breakfast. It will provide the necessary ingredients for the whole day, and yet help you lose weight. All this while enjoying the delicious taste that will refresh you and make your day more productive.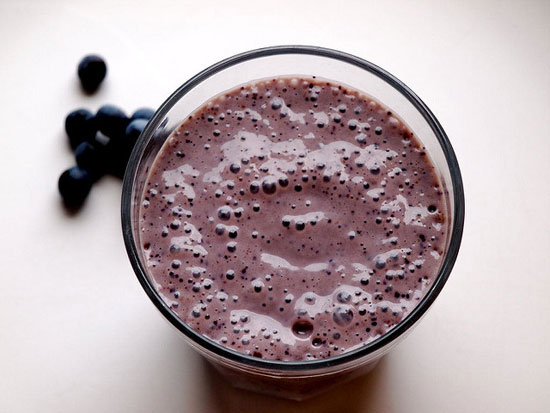 Ingredients:
One banana, sliced. It will make the smoothie sweet and creamy at the same time being a great source of healthy carbs.
One third of a medium sized avocado. You will not be able to taste it in the smoothie, but it will add healthy fats to the recipe, which will help you feel full for a longer period of time.
The main ingredient are blueberries. Get a cup of frozen blueberries, and you can also use mixed berries.
Add half a cup of water, so that the ingredients can be blended easily
Add a pinch of cinnamon and a pinch of ground vanilla powder. These ingredients are optional, but useful and you will not mistake if you include them in your smoothie. They add flavor and are full of antioxidants.
Another optional ingredient is unsweetened almond butter (one tablespoon), but this will also add nutritional value and enrich the creamy texture
Blend all the ingredients and enjoy the creamy and delicious smoothie that is not only super healthy, but will also help you lose weight.