Black healing balm is a natural remedy that has been used since long time ago, created by the Amish. Today, this balm is really popular because it is used for detoxification but also for removal of foreign objects stuck under the skin surface.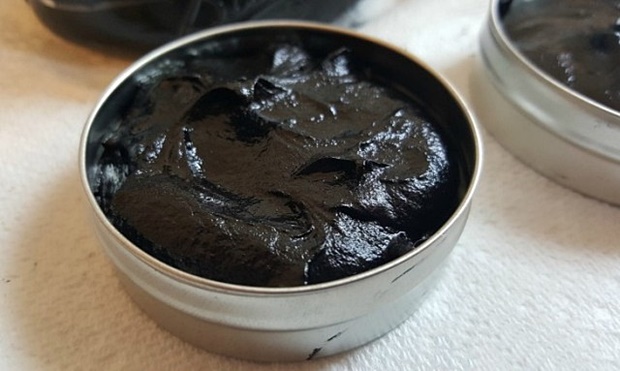 This balm is a mix of natural healing compounds like essential oils, wax and tar. As you can see below, tar is one of the main ingredients in this balm. It is used for treatment of skin problems and it is proven to be efficient because it helps the skin to heal sooner and go back to its normal condition.
What is this balm recommended for?
Any kind of less serious skin problems like burns or rash can be successfully treated with this balm. In the Amish community, this balm is known as "hilla schemer" which means healing cream, because it is used for getting rid of toxins and metal or wooden objects.
This balm can also help in polyps removal, and its strength and efficiency depend on the selected recipe.
This black healing balm can also be used for ulcer treatment because it pulls the pus towards the surface and it stimulates faster skin healing. It is recommended for removal of thorns and little pieces of glass, as well as for acne treatment or insect bites.
If you had a nasty skirmish with poison ivy or oak, you can freely use this balm. Ingrown toe nails can also be treated by it.
Black balm and skin cancer
Quick internet research will tell you that black balm can be used for treatment of skin cancer. This balm should not be mixed up with the black healing balm because the second one's purpose is treatment of less serious skin problems, not serious disease like skin cancer.
Black balm that some people refer to, is first and foremost a controversial solution for skin cancer and its efficiency has not yet been proven.
Therefore, be cautious not to mix up this controversial treatment with black healing balm, which is natural and is used for treatment of different conditions. For example, if you wish to learn how to get rid of acne, you'd have to do some more research on black healing balm.
Black healing balm
Ingredients:
If you are interested in preparing this balm at home, these are the ingredients you'll need:
Half a cup of Castor oil – anti-inflammatory, hydrating, it calms acne
Half a cup of Coconut oil – anti-inflammatory, hydrating, antibacterial, antiseptic, it stimulates faster skin healing
Three teaspoons of tar – it gets rid of toxins and foreign objects deep into the skin, it calms the tickling feeling in case of touching poison ivy or insect bite
Three teaspoons of Bentonite clay – similar effects ass the tar, it ensures the non-fat consistency of the product
Two teaspoons of bee wax – it improves the overall texture and serves as a unifying agent
Ten drops of calendula oil – anti-inflammatory, hydrating, antibacterial, it stimulates faster skin healing
Directions:
Get a big bowl and mix the clay, the tar and the essential oil. Melt the bee wax and mix it with the calendula oil, using a pot with two layers. If you don't have one, use a glass bowl over the pot, filled with hot water and the effect will be the same. Mix the melted wax with the other ingredients, and pour this mix in a jar, leaving it to cool.
Caution: always use jars that have vacuum, so that the ingredients will keep the same level of efficiency. Keep the jar out of sunlight and use the balm for a few weeks.
The ingredients are what differentiates the two mentioned balms.
As you can see, the black healing balm is based on a recipe that only contains natural ingredients. Because of the ingredients choice, it is strongly recommended to only use it for less serous skin problems.
The black balm recommended for skin cancer treatment contains other ingredients and its formula is stronger. Zinc chloride is one of the ingredients, so use this to differentiate the two.
Conclusion
It can be said that the black healing balm that comes from the Amish is very good natural remedy, broadly used today.
As noted, it is recommended for treatment of smaller skin problems, detoxification and foreign object removal. Do not mix it up with the black balm which is controversial.