Our body is such a wonderful machinery, equipped with a very specific mechanism for defense, so complex but also so fascinating.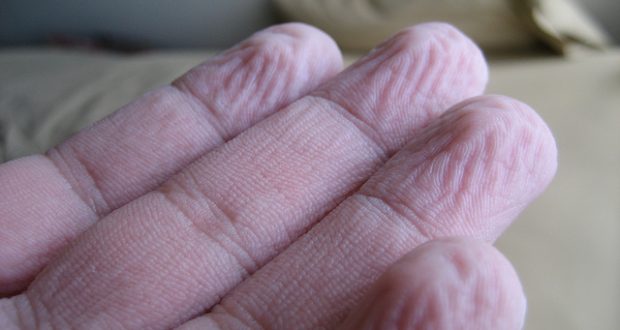 Everything that happens as our body's reaction like yawning, sneezing or something similar is the organism's way to protect itself from harm.
Why Does Our Skin Wrinkle When In Water For An Extended Period Of Time?
Everybody has this happen to them, at least once in their life.
The answer is that this is one of the organism's mechanisms to protect us from accidents.
When you have been in the tub for awhile, you'll notice your fingers wrinkling. This is how your body tells you it is too moisturized and how the environment on the outside can be slippery.
The skin wrinkles for your protection, allowing you to have a better grip on smooth and wet surfaces.
When the skin wrinkles this way, this allows you to be able to have a better grip on smooth surfaces that can be wet.
Check out the video, it will make it the process more clear to you.
Your body has an amazing defense machinery that shows you how much the body and the organism take care of themselves. Make sure you do the same for it.
Keep your body as healthy as you can, leaving it to do its work and it will be very grateful to you!
Do not forget to exercise, don't forget to eat nutritional and healthy food because this is how you will sustain the healthiness of your organism, also maintaining the defense mechanism.