Skin problems are everyone's problem at a certain point in life. They can appear in the form of wrinkles, acne, blemishes, dark spots and hypersensitivity. No need to be too concerned because nature offers us many remedies that contrary to the conventional medicine treatments are safe to use and side-effects free.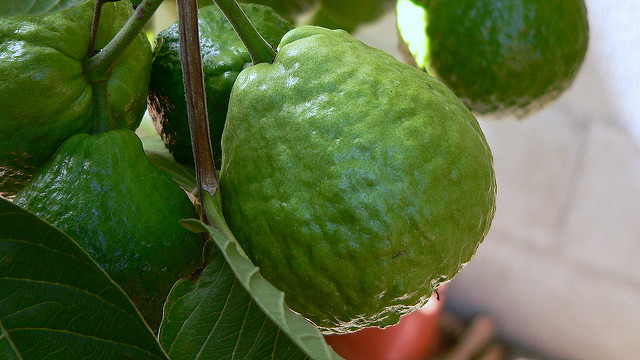 Guava leaves can be an efficient natural treatment for almost all skin conditions.
Wrinkles
Many studies have proved that guava leaves are actually better for this kind of treatment than the fruit itself. Anti-cancer properties they have are able to stimulate elimination of free radicals in the organism. Consequently – skin elasticity and wrinkles elimination are promoted.
Acne
Since guava leaves contain anti-bacterial properties, they are beneficial in the fight with the microscopic organisms that are reason for acne. They help in soothing the skin and prevent acne appearance.
Dark Spots
Like mentioned, the leaves ability to treat microorganisms and tone the skin, they are useful with solving these kinds of irritation like blemishes and dark spots.
Atopic Dermatitis
Guava leaves can help with reduction of irritations and redness which are signs of this condition. The leaves are good with prevention of histamines development, which are chemicals that are released as a part of an allergic reaction. They can appear in the form of wheezing, itching, swelling and sneezing.
Recipes:
Dried guava leaves should be used for atopic dermatitis. They need to be crushed and mixed with water. This will result in redness reduction, as well as itching with then lowers the overall discomfort they cause.
Other skin conditions would require crushed guava leaves, boiled in a saucepan. When the water turns brownish and thicker, remove from heat and leave it to cool off. After it has cooled, apply it on the affected area, using a cotton ball. Leave it on for 15 minutes or so and then wash it with warm water. Highest benefits would be reached with using this twice a week.