If you need something to warm you up and protect your immunity that this turmeric lentil soup is just the thing for you. It is tasty and healthy and has all the ingredients you need.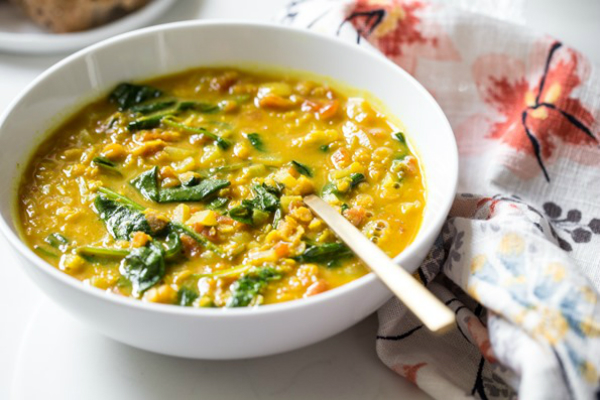 Turmeric, A Perfect Healer
We all know that turmeric is great for our health. It is used from ancient time, and also known as curcumin. You can use it to prevent problems such:
Diabetes
Obesity
Depression
Fatigue
Asthma
Bronchitis
Metabolic diseases
Allergies
Alzheimer's
Multiple sclerosis
Cancer
Psoriasis
Cardiovascular diseases
Besides these problems, you can also use turmeric to avoid tension, anxiety, and stress.
One Apple a Day Keeps the Doctors Away
Just like turmeric, apples are also great protectors of our health. Here are just some of the conditions that can be prevented with apples:
Cancer
Cardiovascular diseases
Alzheimer's
Asthma
Diabetes
Bone health
Gastrointestinal protection
Weight management
Lentils: Tasty and Nutritious
Lentils have anti-inflammatory properties and they can act as antioxidants. So if you have any of these conditions, try lentils:
Cholesterol
Hypertension
Inflammatory bowel disease
Osteoporosis
Colon cancer
Turmeric Lentil Soup with Coconut Milk
You will need:
2 cups red lentils
1 teaspoon coconut oil
1onion, diced finely
2 apples, cored and grated
1 teaspoon turmeric powder
2-3 cup hot water
1 1/2 cup coconut milk
1 teaspoon cumin
1 1/2 teaspoon cinnamon
1 teaspoon salt
Directions:
First, you need to rinse the red lentils with cold water. After that melt coconut oil in one pot, and saute onions until they get fine golden color.
Add apples and turmeric in it, and then cook for 2 minutes (stir it constantly). After that add lentil and 2 cups of water. Boil it and let it simmer for 15 minutes.
Then add spices and coconut milk and stir it well. Simmer until the lentils become soft, and then add another cup of water. In the end, leave it to simmer for 2 hours.
Garnish it with coconut shavings and pumpkin seeds and serve warm.