Selected Home Remedies for Women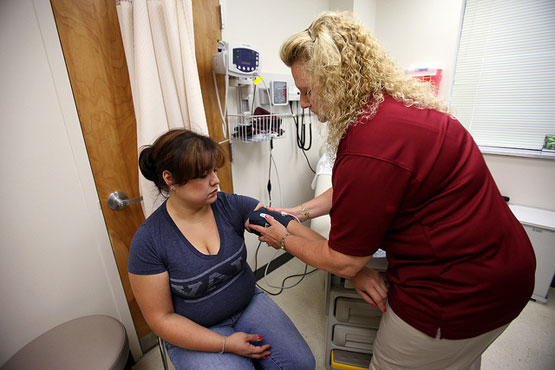 QUICK HELP WITH CYSTITIS
As soon as you feel the symptoms of cystitis, which are the need for frequent urination, with burning feeling and pain while urinating, apply the following recipe, which will recover in just 15 minutes.
Grease oil of St. John's wort on thicker paper napkin and place it between your legs as a coating . Then fill a plastic bottle with warm water. Lie down, spread your legs and put a bottle between your legs so you can warm the whole covering. Stay that way for about 15 minutes. You will feel a great relief, and the unpleasant symptoms of cystitis will disappear.
TEA THAT FACILITATES PROBLEMS WITH MENOPAUSE
Mix equal amounts of blackberry leaves, marigold flower and lemon balm. Pour one tablespoon of this mixture into a cup of boiling water, cover and let it stand for 20 minutes.
Drink a glass of this tea four times a day, before meals, in small sips. After two weeks of taking
tea, complaints will be reduced, and the mood will significantly improve.
REMEDIES FOR OVARIAN CYST
Tincture of medicinal herbs
Put in a jar 2 tablespoons of wormwood, 1 teaspoon chopped birch leaves, chopped 1 sheet of fresh aloe cactus(can be bought at markets, in pots) and 1 chopped red chilli pepper. Pour half a liter of vodka. Let this mixture stand in a sealed jar for 10 days. Then strain. Drink 1 tablespoon of this tincture, mixed with three tablespoons of water, 3 times a day 20 minutes before meals. After drinking 2
bottles of tincture situation is markedly improved.
………..
Lining of wormwood
4 tablespoons of wormwood pour in a bag of gauze, and dip in boiling water. Some bags remain in the water for five minutes, then remove it. When a little cool, but it stays warm, put on the lower abdomen, and over bags to put cotton cloth. This work every night for a month.
TEA FOR A NORMAL CYCLE
Take two tablespoons of yarrow (Achillea millefolium) and centaury (Centaurium erythraea).
Pour over  with 7 dl. boiling water(90 degrees). Allow to stand covered for two hours and after that drink 2 dl. before breakfast, lunch and dinner. In each cup pour 1 tablespoon pomegranate jam (can be found in health food stores). Drink this exactly 6 days before expected menstruation.
MIXTURE TO STRENGTHEN THE BODY AND  ESTABLISHING GOOD HORMONE BALANCE
Avicenna mixture: grind (preferably in a meat grinder) 1 cup dried apricots, 1 cup
raisin, 1 cup dried figs, 1 cup pitted prunes and 1 cup of walnut. Add the juice of 2
lemon and 1 cup of honey. All mix well and keep in the fridge. In the morning before breakfast eat a spoonful of this mixture.
REMEDY FOR ESTABLISHMENT OF REGULAR MONTHLY CYCLE AND AGAINST CYST
This is old Russian remedy. Castor oil packs are placed on the lower part of the abdomen. Lubricate cotton cloth with castor oil and put it on the lower part of the abdomen. From above put nylon
bag and over it bottle with warm water. Lie with this coating three times a week for one hour.
This is a powerful remedy that helps even in case of possible cysts in women's bodies. When situation is improved, place covering once a week.
COOKIES FOR PREGNANCY
Mix equal amounts of ground almond, date, banana and honey. Add egg whites, as much as
it is necessary to get sticky mixture. Make balls and bake in the oven at 150-180 degrees for 20 minutes. This is an old Arab medicine. It is believed that women who eat these cookies will faster and easier stay pregnant.