Eating lots of vegetables and fruits can reduce the risk of various chronic diseases, protect against diabetes and heart disease, promote liver and kidney health and support a healthy body weight.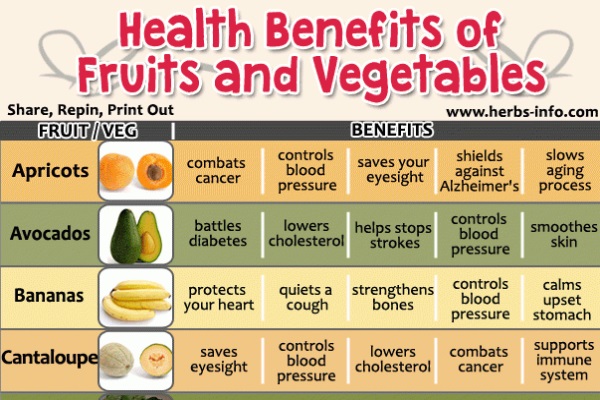 Raw, cooked, hot or frozen, these 10 fruits and veggies will charge you up, fill you with vitamins, antioxidants and minerals, which in turn will help you improve your health, boost your energy levels and make your skin glow.
1.    Avocado
One of the healthiest fruits on Earth, avocado is incredibly nutritious, chock full of vitamins, loaded with healthy fats and fiber. Many studies have shown that avocado promotes heart health, lowers bad cholesterol (LDL) and triglyceride levels. Others have shown that it's good for diabetes, and some have even suggested that it may prevent cancer.
2.    Blackberry
Blackberries are full of antioxidants that help combat chronic diseases. This also makes them  an excellent ally against cancer. They improve brain function, reduce body inflammation and boost the immune system.
3.    Lemon
High in Vitamin C, lemons are first and foremost excellent immunity boosters. They contain various minerals, antioxidants and phytonutrients, which makes them one of the best fruits for overall health. They fight free radicals, can prevent the risk of stroke and high blood pressure, and can even help you maintain a healthy complexion.
4.    Cucumber
Low in calories but high in water content, cucumbers offer many health benefits. They contain vitamin C, K, B, potassium, magnesium, and copper, as well as a unique polyphenol called lignan, which helps lower the risk of cancer.
5.    Kale
A highly nutritious vegetable, kale is rich in vitamins and loaded with antioxidants and minerals. Studies have shown that this leafy green veggie has numerous cancer-fighting properties, can help lower cholesterol and support heart health.
6.    Broccoli
Broccoli is basically a powerhouse of nutrients: Vitamin C, K, A, B6, potassium, selenium, phosphorus, manganese, are just some of the compounds found in broccoli. Studies have linked the consumption of broccoli with a reduced risk of cancer, arthritis, heart, kidney and liver disease.
7.    Cabbage
The health benefits of cabbage are numerous: it supports heart health, prevents cancer, boosts the immune system and helps with digestion. On top of that, it's a low-calorie veggie that can actually help with weight loss.
8.    Beet
Rich in vitamins and fiber, beets can help you fight anemia, kidney and gall bladder disorders, constipation and indigestion. Thanks to a compound called betaine, beets help fight inflammation and various chronic diseases.
9.    Artichoke
Artichokes are packed with important antioxidants and phytonutrients, which makes them great for heart and liver health, and the digestive system. The consumption of artichokes has been linked with a lower risk of diabetes, heart attack, stroke and atherosclerosis.
 10. Aloe Vera
Aloe Vera has antioxidant and antibacterial properties, which makes it a great topical treatment for various skin problems (burns, itching, swelling, etc.). Some studies have shown that it increases insulin sensitivity which makes this plant a great remedy for diabetes.