Breakfast is the most important meal of the day, so get started on the right food with these five incredible smoothie recipes.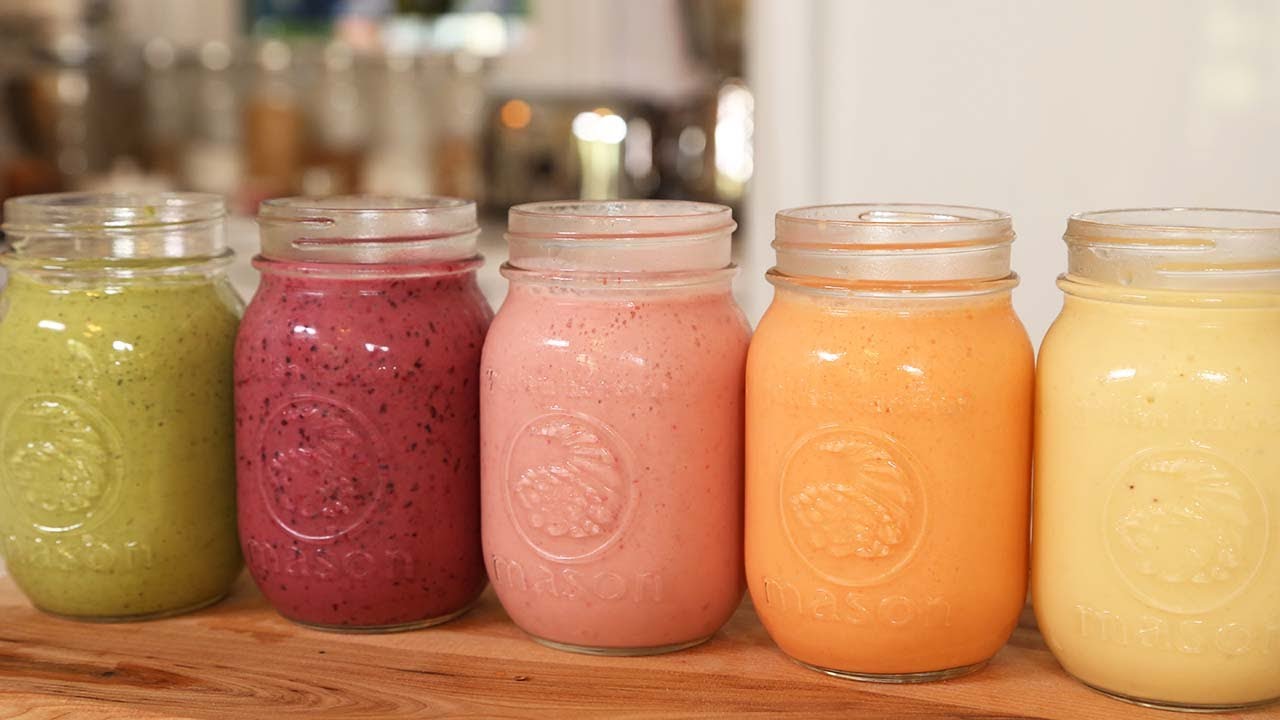 Firstly, we are going to share a couple tips to make your smoothie making run smooth.
First up, you want to use your own frozen fruit so that you don't make your smoothie too watery with adding to much ice.
Next, when it comes to the process of blending, make sure to add the liquid in the beginning so that it is near the blades and your blender can run smoothly.
Finally, you can pre-package your smoothie and leave them in the freezer. This is great because all you have to do in the morning is roll out of bed, pour these into your blender with a little bit of yoghurt and some juice and you are ready for the day! Here is your schedule for the week!
Monday Yellow Smoothie
This recipe is perfect for a gloomy Monday to get you going. Start with a half a cup of pineapple juice. If you don't have pineapple juice, no worries – you can also use orange juice, or almond milk will fit in the recipe just fine.
Add a half a cup of Greek yoghurt, to add a bit of much needed protein and then top it with some tasty fruits: frozen pineapple, mango and banana. Hit it with a little bit of grated ginger to liven it up. There you go!
Tuesday Orange Smoothie
Start with half a cup of orange juice and add a half a cup of Greek yoghurt for protein, one frozen peeled orange, half a peach (also pealed and frozen), and one shredded carrot.
Wednesday Red Smoothie
This absolutely delicious treat will make you feel like its Friday already.
Start with a little bit of almond milk and vanilla flavored Greek yogurt, add some watermelon, strawberries and raspberries. Blend it all and you have the tastiest breakfast ever!
Thursday Purple Smoothie
This antioxidant goodness will make your stress go away. It is so delicious and contains some of the richest foods in antioxidants.
Pour a half a cup of pomegranate juice in the blender, and in case you don't have the particular type of juice, cranberry juice will work out just fine. Add vanilla flavored Greek yogurt. Then add a bit of frozen blueberries, blackberries and even some beautiful freshly pitted cherries. When they are in season, buy a whole ton, pit them and freeze them, so you can use them all year long.
Friday Green Smoothie
A long day like Friday, requires some greens intake in the morning.
Start with half a cup of orange juice and then half a cup of vanilla flavored Greek yogurt. Then add two peeled and frozen kiwis. Add a whole avocado, which is going to add some creaminess and texture. Then add a handful of greens and you won't even taste them because of these beautiful kiwi.
Also, keep in mind that smoothies are excellent for improvisation. So once you got these basic recipes down, you can add all sorts of ingredients: protein powder, hemp seeds, chia seeds, any kind of greens that you can sneak in.