Beautifully fragrant, anti-inflammatory, antibacterial, and edible, rose water is an extremely versatile item to have on hand.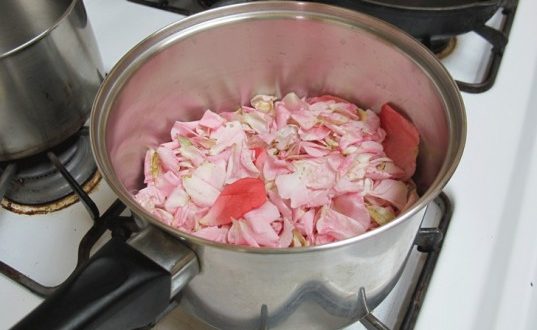 Benefits of Rose Water
Mood Booster
Rose has a strong effect battling depression and similar conditions. One study showed that when women consumed rose water postpartum there was a decrease in postnatal depression charts.
Skin Treatment
Rose reduce inflammation and redness, balancing the natural pH of the skin. It is because of these characteristics that rose is used for fighting eczema, psoriasis and acne. According to some research from Germany, rose oil makes the skin more able to soak healthy ingredients, however this is only if it is fully natural and organic.
Goodbye Restless Nights
The rose floral notes help with good sleep. This was tested on hospital patients, and it was discovered the rose scent helped in improvement of the quality of the sleep.
Antioxidant and Antibacterial Effects
The rose has highly antibacterial and antioxidant properties.
Blood Pressure And Stress
The scent also reduces blood pressure and normalizes cortisol levels. Cortisol is the guilty hormone for stress.
How to Make It In Your Kitchen
There are quite a few ways to prepare rose water, and we provide you with some.
Preparation No 1
Perhaps this is the fastest and easiest way for preparing your rose water; however it does not last long.
What you'll need:
1/2 cup organic dry rose petals and
5 cups of water
Put the ingredients in a pan, cover the pan and boil them. After that let them stay covered for about 9-11 minutes and make sure the petals have lost their color, and when that happens let them get cold. Use cheesecloth or appropriate alternative to let the liquid pass through, and keep the pure water refrigerated in a glass bottle.
Preparation No 2
This method is a bit different, because you use essential oil instead of rose petals. However, keep in mind that this method is for beauty purposes only. It is not safe to be consumed as a food supplement.
What you'll need:
Rose essential oil (twelve drops)
1 cup of distilled water
1 teaspoon of vodka
Mix the vodka and the rose oil. When you are done mixing them, store them in a glass bottle and add water. Shake well before you use it.
Preparation No 3
This way is a bit more difficult, however it has longer shelf life.
What you'll need:
If you use fresh petals get 3 cups, and if you use dried ones get a cup and a half
Some water
Little ice
Use a large pot, and put a rock in the center. On the top of the rock, put a metal bowl. Add the petals in the pot, add water until it almost covers the top of the rock. Cover the pot so that the steam doesn't go out, and put some ice cubes on whatever you covered the pot with, to help with this. Make sure the water is boiling, and leave it out for half an hour. After it is completely chill, get the metal bowl and store the water from it in glass containers. There it is – your own rose water! If refrigerated, it can last for up to half a year.
How to Use Your Rose Water
Face Moisturizer
Hot days are tough on the skin, so make sure you have you rose water, and apply when necessary. It will chill your face and prevent redness as well as spots. You can add vitamin E or aloe vera if you prefer, this will make the mist even better!
Facial Toner
If your skin is acne-prone and oily just add one spoon of rose water in a half a cup distilled water and you have a an amazing tonic that works miracles!
Perfume
Your non-toxic personalized fragrance can be a homemade one. Simply put the rose water you prepared in a spray bottle and – voilà!
Make-Up Remover
When mixed with jojoba oil, rose water can be of huge help for this purpose. Just use a cotton pad and use it as you would use a store-bought makeup remover.
Shampoo
The great properties rose water has will help kill the bacteria on your scalp, balancing the pH values. After you wash your hair with a regular shampoo, use a cup of the rose water for the final rinse or if you want, you can mix it with your shampoo. It smells good too!
Linen Freshener
Just put it in a spray bottle and apply on whatever you want to refresh! If you like, you can add lavender oil just to be on the safe side!
After-sun Treatment
A great, chemicals-free sunburn spray is made of rose water, apple cider vinegar, aloe vera and any sort of essential oil. This will help with skin regeneration in a natural way!