Ginger is a great and nutritious plant that can improve your health. Nevertheless, there are some conditions that don't really go with ginger and if you have any of them, then ginger should be banned from your diet.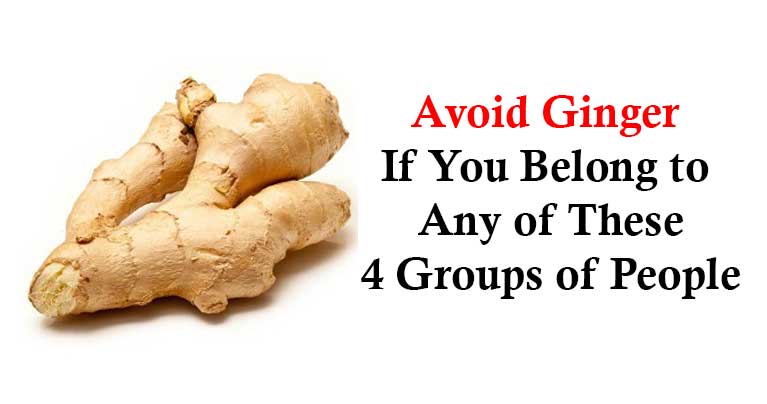 Even though ginger has a lot of healthy nutrients and compounds, there are some effects of this plant that don't go with specific conditions. Even though it can cure many digestive disorders, you shouldn't consume ginger if you have any of these conditions:
Medications
Not all medications can be affected by ginger, but if you take high blood pressure medications or medications for diabetes, then you should avoid ginger. The combination of ginger with beta-blockers, anticoagulants or insulin can change the effects of drugs on the body. Ginger can stimulate blood thinning and lower blood pressure, thus reducing the effect of medications.
Pregnancy
There are some studies that the consumption of ginger can lead to premature labor and contraction. So all the doctors forbid using ginger during the last trimester of pregnancy. On top of that ginger hinder the absorption of fat-soluble vitamins and dietary iron. If you are pregnant, consult your doctor before using ginger.
Blood Disorders
When it comes to obesity, diabetes, peripheral artery disease or Raynaud's disease ginger is great because it stimulates blood circulation. But when it comes to hemophilia, it is forbidden. Blood of people with hemophilia has reduced ability to clot, so ginger can neutralize the effects of the drugs. Because of that ginger should be banned from the diet.
Underweight
Ginger is great for obese people but bad for underweight people. It increases the stomach pH levels and production of digestive enzymes, which leads to reduced cravings for food and improved fat burning process.
Substitute for Ginger
If you cannot eat ginger, use cayenne pepper, red paprika or sweet peppers instead. They have similar effects like ginger, but without the side effects.