Drinking tea is fun and healthy, and while all teas are great, these eight herbal teas are the healthiest ones.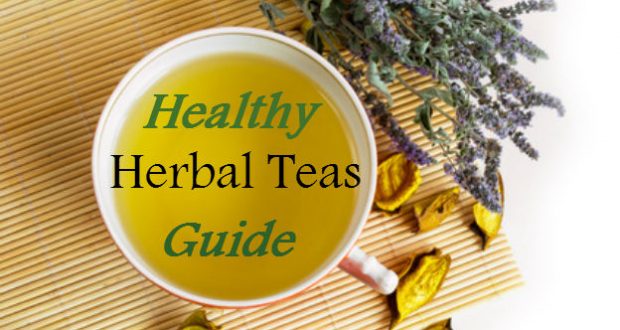 The next list of eight herbal teas will help you improve your health, so you need to have them in your home. Use them regularly and you will feel fantastic.
Ginger tea
Ginger acts as a stimulant and gives us the much-needed energy. Tea ginger stimulates and soothes the digestive system. Ginger is proven to help with nausea. Also, thanks to its anti-inflammatory properties, ginger tea helps in fighting arthritis.
Nettle tea
Nettle tea is made from the leaves of nettle, which, despite its rough looks, is one of the best natural medicines for various diseases, such as anemia, high blood pressure, rheumatism, arthritis, coughs and colds, congestion, urinary tract infections, problems kidney, and bladder.
The rosemary tea
It is well known that the rosemary is used in the kitchen, but it also has many health benefits. Tea made from rosemary is actually very healthy. The tea of rosemary, above all, helps to relax the muscles. If you have problems with the gall bladder and liver, you can drink this tea, and it will help to reduce symptoms. Furthermore, this tea helps you with a cough and helps people who have problems with milder forms of asthma.
Chamomile tea
Chamomile is a popular herb as a tea worldwide. Chamomile calms the stomach and helps with flatulence and indigestion. Chamomile also soothes the mind and helps people to relax and easier to cope with stress. Some people are allergic to chamomile and should avoid taking tea. People who have trouble sleeping should have a cup of chamomile tea before going to bed since chamomile helps with insomnia.
Peppermint tea
Nana is a fragrant herb, with a soothing effect. Mint helps improves digestion, reduces bloating and digestive problems. A cup of tea will relieve nausea and vomiting, especially if you suffer from motion sickness. If you have heartburn, do not drink mint tea, because drinking this tea may worsen your condition. This tea helps with herpes and also, peppermint will refresh your breath. Other health benefits of drinking this tea are relief of pain in the muscles and relieving chronic pain, as well as reducing stress.
Lemon balm tea
Tea made from lemon balm is delicious drink and very effective tonic to calm nerves and anxiety. Cold tea bags of lemon balm help with ulcers or with genital problems caused by virus 'herpes simplex'. Lemon balm tea successfully helps in the treatment of anxiety, stress, and insomnia. Lemon balm contains certain properties that help in controlling herpes and it also regulates the thyroid.
Lemon balm mixed with mint can calm the stomach, help with problems with digestion and reduce bloating. If you have problems with nerves, consume at least one cup of lemon balm tea daily. The consumption of tea also will improve your memory, concentration, and brain function.
Tea Lavender
Lavender tea is made from the dried purple, pink and white flowers that grow on bushes of lavender. Mug of lavender tea helps to calm your mind and having a good night's sleep. When you feel anxious and depressed, prepare yourself a cup of lavender tea, which will help you to calm down and get in the mood. It helps in the treatment of bloating, cramps, problems with the intestines, respiratory disorders and various types of infections.
Lavender is used to reduce body temperature in children and adults. This plant has other medicinal properties – using tea bags of lavender can help in healing wounds, cuts, and sores.
Green tea
Consuming green tea has many health benefits. Green tea reduces the risk of cancer, inhibits the carcinogenic substances in cigarettes. It also contains powerful antioxidants, polyphenols, which help in fighting free radicals. Moreover, green tea stops the formation of certain tumors. This strange tea reduces cholesterol and triglycerides in the blood, which promotes a healthy heart. Green tea lowers blood pressure, prevents and fights tooth decay and prevents various viruses.