Jojoba oil is one of the oldest cosmetic oils used for mainaining the beauty of the skin and the hair. In India, people have been using it for a long time since it is one of the main natural products for healthy skin and hair.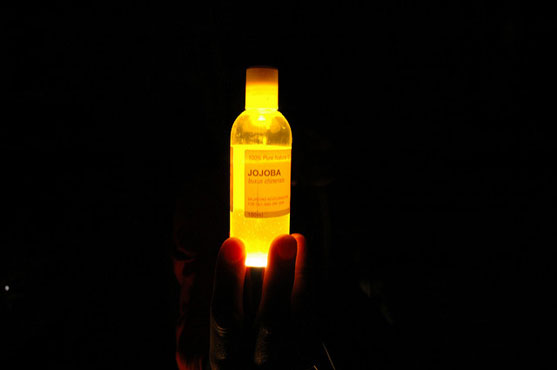 Although it is called "oil", its structure makes it a kind of liquid wax that is obtained with cold pressing the jojoba seeds. The basic difference between oil and wax is that the oil contains a combination of molecules of fatty acids and glycerin, while the wax does not. This is precisely what enables this oil to easily penetrate the skin.
The content of the jojoba oil is really fantastic and it is good for all skin and hair types.
It is rich with vitamin E which is a natural antioxidant and it stops the action of the free radicals and with that the premature aging.
It contains minerals necessary for the health and beauty of the skin, keeping in mind that they aid its natural function and regeneration. The lack of minerals can cause redness, premature wrinkle appearance and lifeless skin.
The jojoba oil contains two vitamins of the B group: B2 and B3 which are very important for the health of the cells. These two vitamins decrease skin inflammation in cases of eczema, psoriasis and rash, also improving the hair structure.
The oil is made of two parts, out of which when one has contact to certain ingredients it can form an ingredient similar to the soap, and the other can't. The second one represents a true treasure in the oil itself: it has antioxidant influence and prevents premature aging. It stimulates the production of colagen and elastine in the skin and it returns the tonus to the skin itself. The jojoba oil is third in classifications according to the amount of this ingredient in its structure, which is present from 2 – 3%. Avocado oil takes the first place and shea butter takes the second.
Thanks to this unique structure, the oil is great for many conditions, especially for sensitive skin relief. It is a rare oil which is appropriate for both a combined and oily skin.
Jojoba oil has to be pure and cold pressed. Avoid any mixtures including mineral oils or sylicones. Institute Organica's oil is pure and cold pressed that has only one ingredient Simmondsia Chinesis Oil – its botanical name! It is also one of the few fragrance free oils, which makes it ideal for everyone. With high tollerance, this oil hardly goes bad and can endure high temperatures, up to 266 degrees Fahrenheit for 9 hours, withouth suffering structure alterration.
Jojoba oil can be used for:
1. Combined or oily skin treatment
Easily absorbed by our skin, this oil simultaniously normalizes sebum secretion. Our sebum is basically made of:
Almost 58% of triglycerids and free fatty acids
26% of wax
12% squalen
4% of cholesterol
Dead cellsThere is why the oil penetrates the skin so easily. Its structure is very similar and it perfectly unites and mixes with the one of sebum, without causing any change in the functional characteristics of the skin. It also helps in the case of acne.
It is recommended to apply it to a slightly dump skin after the tonic, or if you spray thermal water or rose water before. Then you can apply the oil with mild movements until complete absorbance.
Facial mask recipe:
Mix two teaspoons of green clay and one teaspoon of jojoba oil and a bit of water or green tea. If the mix is too liquid, add a bit of clay and if too thick add a bit of water.
Apply the mixture to a clean face and leave it resting until you feel slight tensing of the skin (don't leave it to completely dry). Rinse the face with lukewarm water and finish the rinsing with colder water for better circulation.
This way you get a complete protection of external influences. The jojoba oil creates a protective film without clogging the skin, and has a great anti-aging effect.
2. Hair beauty treatment
Jojoba oil is good for the hair due to the vitamins B1 and B2. You can use it as treatment on slightly dump hair and to leave it for an hour. Rinse after with a mild shampoo.
This will make your hair shine and be soft like silk, frizz-free.
Stronger nails treatment
If you have a problem with fragile nails, apply this oil over the whole nail and the cuticle leaving it overnight and applying it with a massage. The oil has an oustanding ability to strenghten the nails if regularly used.
4. Makeup removal
You can prepare a great makeup remover with these ingredients:
Two tablespoons of demineralized or rose water
Two teaspoons jojoba oil
One teaspoon of castor oil
Take an empty bottle and pour the liquid in it first, adding the oils later. Shake well and you got your makeup remover!
Remember to shake well before every use!
5. Protection from the sun
Jojoba oil has a natural 4 SPF, so you can use it as sun protection, but keep in mind that 4 may be too low for the facial skin, however it is good to put on first, before the sunscreen lotion.