Is it possible to detox your body and nourish it while boosting your energy levels at the same time? Yes, it's entirely possible, thanks to a traditional Eastern Europe beverage called Beet Kvass.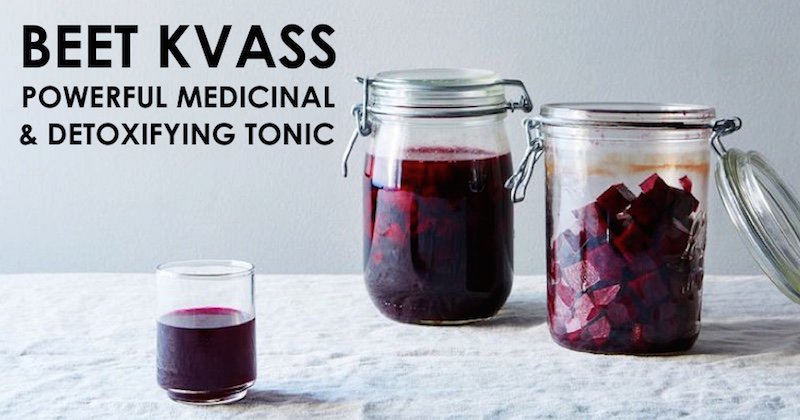 Beet kvass was originally made from fermented, stale rye bread: a fizzy, nutritious, tasty tonic with numerous health benefits.
As for Beet kvass, it's even better: beets are an antioxidant, anti-inflammatory and detoxifying food that is highly rich in vitamins and minerals. In the past, beet kvass was used not only for liver cleansing and digestive issues, but as a part of cancer therapy too.
Health Benefits of Beet Kvass
Here are just a few health benefits of this earthy, fizzy drink.
1.    Improves Digestion
When making a beet kvass, you're fermenting beetroots, which is a process that highly improves the nutritional value of the vegetables and provides a strong gut support thanks to healthy probiotic bacteria and enzymes. On top of that, beets are high in fiber, making beet kvass an excellent treatment for various gut issues.
2.    Detoxifies
Beet contains a group of phytonutrients known as betalains, which stimulate glutathione production and connect toxins to these tiny molecules. For this reason, beet kvass is an amazing detox beverage that also fights chronic fatigue.
3.    Rich in Nutrients
Beet kvass is highly rich in Vitamin C, folate, magnesium, manganese and potassium. All of these nutrients are essential for a strong immune system and are especially healthy for pregnant women.
Beet Kvass Recipe
Beet kvass is fairly easy to make. For this healthy beverage you'll need:
2-4 organic beets
1 tablespoon of Himalayan salt
¼ cup of sauerkraut juice
Purified water
Glass jar (half a gallon)
Preparation:
Wash the vegetables properly, chop them into small cubes and throw them in the glass jar.
Add sauerkraut juice and salt.
Add water.
Cover with a cheesecloth and leave at room temperature for 2 days to ferment.
Once ready, keep the jar in the fridge.
Consume Beet Kvass first thing in the morning.