Anemia is medical condition caused by deficiency of red blood cells in our body. There are many different types of anemia, but iron deficiency anemia is the most common.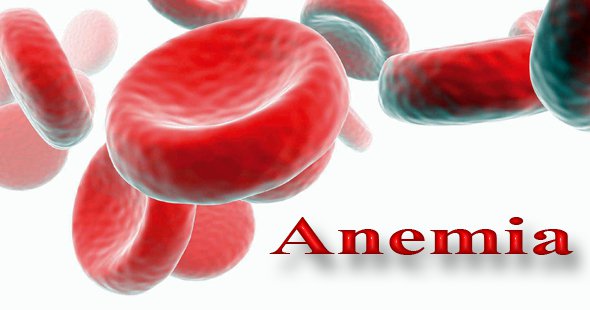 Iron deficiency anemia is caused by a shortage of Iron in our body. Iron is crucial mineral for producing hemoglobin (red protein responsible for transporting oxygen in the blood). This condition can make you feel tired, breathless, irritable and in worst case can lead to organ failure.
There are 2 forms of dietary iron: heme and non-heme. Heme can be found in meat, poultry and fish, while non-heme in plant foods. The most of the Iron we intake, comes from heme source.
Here are the top 15 Iron-rich foods. Daily value (DV) for Iron is 18 milligrams.
 Mollusks
Iron content per 3-ounce (85g) serving
Clams: 24mg (132% DV)
Oysters: 10.3mg (57% DV)
Cuttlefish: 9.2mg (51% DV)
Whelk: 8.6 mg (48% DV)
Octopus: 8.1mg (45% DV)
Mussels 5.8mg (32% DV)
Abalone: 3. 3.2mg (18% DV)
Scallops 2.5mg (14% DV)
Liver (pork, beef, chicken, turkey)
Iron content per 4-ounce (113g) serving: 26mg (146% DV)
Mushrooms
Iron content per 1- cup serving
Morel: 8.04mg (45% DV)
White Mushrooms, cooked: 2.7mg (15%DV)
Chanterelle Mushrooms: 1.8mg (10% DV)
Oyster Mushrooms 1.1mg (6% DV)
Shiitake Mushrooms, cooked: 0.72mg (4% DV)
Dried fruits
Iron content per 1-cup serving
Apricot: 7.51mg (42% DV)
Peaches: 6.5mg (36% DV)
Prunes & Currants: 4.7mg (26% DV)
Raisins: 4.3mg (24% DV)
Pears: 3.8mg (21% DV)
Figs: 3.1mg (17% DV)
Apples: 1.3mg (7% DV)
Seeds
Iron content per 1-ounce (28g) serving
Pumpkin and squash seeds: 4mg (23% DV)
Sesame seeds: 4.1mg (23% DV)
Sunflower: 2mg (11% DV)
Flax: 1.6mg (9% DV)
Nuts
Iron content per 1-ounce (28g) serving
Cashew: 1.7mg (9% DV)
(Pine nuts: 1.6mg (9% DV)
Hazelnuts: 1.3mg (7% DV)
Peanuts: 1.3mg (7% DV)
Almonds: 1.3mg (7% DV)
Pistachios: 1.3mg (7% DV)
Macadamia: 1.1mg 0(6% DV)
Lean tenderloin
Iron content per 3-ounce (85g) serving
Beef: 3.1mg (17% DV)
Lamb: 2.3mg (13% DV)
Beans and pulses
Iron content per 1-cup (cooked)
White beans: 6.6mg (37% DV)
Soybeans: 8.8mg (49% DV)
Lentils: 6.7mg (37% DV)
Kidney beans: 5.2mg 0522 (29% DV)
Garbanzo beans/Chickpeas: 4.7mg (26% DV)
Lima beans: 4.5mg (25% DV)
Navy: 4.3% (24% DV)
Black Beans: 3.6mg (20% DV)
Pinto: 3.6mg (20% DV)
Black-eyed Peas: 3.6mg (20% DV)
Whole grains
Iron content per 1-cup (cooked)
Quinoa: 2.8mg (15% DV)
Oatmeal: 2.2mg (12% DV)
Barley: 2.2mg (12% DV)
Rice: 2.0mg (11% DV)
Bulgur: 1.8mg (10% DV)
Buckwheat: 1.3mg (7% DV)
Millet: 1.1mg (6% DV)
Dark leafy greens
Iron content per 1-cup (cooked)
Spinach: 6mg (36% DV)
Swiss Chard: 4.0mg (22% DV)
Turnip Greens: 2.9mg (16% DV)
Kale, Raw: 1.1mg (6% DV)
Beet Greens, raw: 0.9mg (5% DV)
Chocolate
Dark chocolate (1 square/29g): 5mg (28% DV)
Cocoa powder (1 cup): 11.9mg (66% DV)
Chocolate bar (1.5oz/ 44g): 1.1mg (6% DV)
Tofu
Iron content per 100 grams: 2.7mg (15% DV)
Iron content per 1 cup (126g): 3.4mg (19% DV)
Iron content per 1/4 Block (81g): 2.2mg (12% DV)
Olives
Iron content per 100 grams: 3.32mg (18% DV)
Asparagus
Iron content per 100 grams: 2.14mg (12% DV)
Iron content per cup (134g): 2.87mg (16% DV)
Iron content per spear (20g): 0.43mg (2% DV)
Berries
Iron content per 1-cup serving
Mulberries: 2.59mg (14% DV)
Elderberries (13%)
Raspberries: 1.6mg (9% DV)
Blackberries: 1.3mg (7% DV)
Strawberries: 1.1mg (6% DV)
Raspberries/Blackberries/Loganberries/ Wild Blueberries: 0.9mg (5% DV)