In Rome it is still common to follow an informal, unscientific weekly recipe calendar which was established centuries ago based on religious tenets.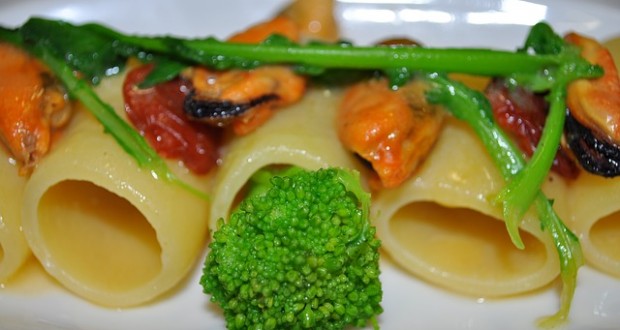 Romans call the food served following this calendar piatti canonici – Canonical dishes.The wonderfully rowdy trattoria il Bucatino, the one that inhabits the right hand corner of the ground floor of our palazzo, follows this weekly calendar. Each day the appropriate smells curl through the kitchen window of il Bucatino across the courtyard, up two floors and if it is open, which it often is, into our front door.
Saturday is the day for trippa alla romana (tripe with mint and pecorino romano); Sunday is Fettuccine alla romana followed by abbacchio (fettucine pasta with a hearty meat, chicken liver and tomato sauce followed by roast suckling lamb); Monday is the day for riso e indivia in brodo (rice and curly indivia in chicken broth); Tuesday is pasta e ceci (pasta with chickpeas) pasta e fagioli (pasta and beans) or fish; Wednesday, anything goes; Thursday is gnocchi di patate (potato gnocchi); Friday, it is Traditional to eat pasta e ceci (pasta with chickpeas again), baccalà (salt cod) or pasta e broccoli (pasta with broccoli).
Here's the super simple recipe of how my grandma used to make pasta and broccoli
Recipe
Fry 4-5 garlic cloves in extra virgin olive oil, of course in a frying pan. Chop some fresh parsley in the meantime. When the garlic is golden (not brown), remove the pan from the fire and while it's still hot add a cup of breadcrumbs. Real bread crumbs grated from your week-old left over bread , not the chicken's food you get from the supermarket.
Mix everything very quickly, the residual hot of the oil is enough to brown the breadcrumbs without burning them, but if you are too slow they definitely will. Get some water to the boil and add pasta and broccoli at the same time. Short pasta is better: rigatoni, penne, fusilli, stuff like that.
When the pasta is ready just drain it, season it with olive oil and add the breadcrumbs and the fresh parsley.
It's simple but super awesome.