No matter how old we are, whenever we think about the past, the childhood for example, it seems like it took forever when we couldn't wait for the summer break, for Christmas to come or for the cookies to be ready. Even though this appearance may seem to us like it is quite mysterious, actually it comes down to intuitive sense: at the age of fifty, one day is only a tenth of the proportion of the time we have lived up to the point than it felt at the age of  five. The longer our timeline is, the perception of fixed units of time like minutes, years and decades seems shorter.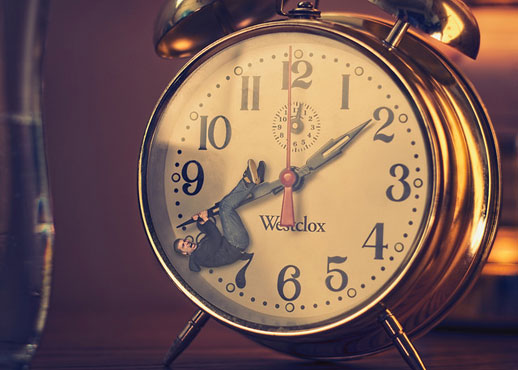 Some other factors can be contributors too. Individual perceptions of time are very much influenced by the personal level of focus, the mood and the physical state. When we focus on a certain event, then time may seem like it passes slower than usual, similarly to the case when we are bored when time appears to drag endlessly. Understandably, this affects the childhood perception of slow time, because kids spend lot of time at school, which presents an environment that strikes most kids as exclusively boring.
Additionally, our brain is processing new information into our memory, but not ones that are familiar, therefore retrospective judgment regarding time is founded on the number of new memories that we create in a specific period of time. Namely, the higher the number of new memories we create on a weekend vacation, the longer the duration of the trip will be when we think about it. The relatively high number of specific memories that are created in early life, and the low number of specific memories created in later stages of life, means that our early years generally tend to be relatively more represented in our autobiographical memory, and as a result they may seem to last longer.
There is a video made by National Geographic Channel that shows these Brain Games, introduction some ideas and theories regarding the discussed topic. There are some new ones too, that kind of connect the dots to the fact of how much energy the brain utilizes in recording differing types of experiences. This suggest that even basic senses like the one we use to mark time, are way more complex than we actually understand in essence. Looking at the big picture, it actually all comes down to the words of Einstein regarding his theory of relativity: Place your hand on a stove for a minute and it seems like an hour. Sit with a pretty girl for an hour and it seems like a minute.