If you consider coffee your best friend, we have some good news for you: not only is regular black coffee healthy for you, but mixing it with some butter may even help you lose weight!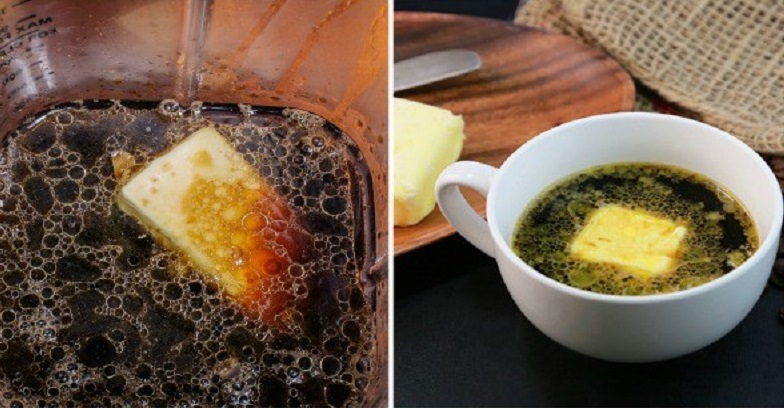 Coffee is full of antioxidants and beneficial nutrients that can help you improve your health. Caffeine, one of the main substances, has even been shown to help with weight loss by making your body burn fat instead of muscle. Some studies have linked consumption of coffee with the decreased risk of type 2 Diabetes, dementia, Alzheimer's and Parkinson's disease, and even liver disease. Now, you can double the health benefits of coffee by adding some grass-fed butter and coconut oil to the drink.
Butter Coffee
Butter coffee has a strong, creamy, rich taste that will make you feel so full, you'll be able to skip breakfast when in a hurry (or don't feel like eating). In fact, being so filling, most people consume butter coffee instead of breakfast. This tasty drink will fill you up with antioxidants and essential nutrients that will help you start your day right. On top of that, the butter will provide healthy fats to your brain, which, in turn, will improve your mood and stabilize your hormones. As a plus, it will even help with your digestion!
Preparation
For this coffee, you will need a blender, high-quality coffee, grass-fed butter and coconut oil (optional). The blender is used because with a spoon, you simply cannot mix butter and oil with hot coffee that well.  Of course, if you don't mind this, you can simply scoop some butter and oil, add it to your coffee, and mix until it's completely melted.
Here's how to make your first (but definitely not last!) cup of butter coffee:
Brew a cup of high-quality coffee;
While hot, add 2 tablespoons of grass-fed, unsalted butter and 1 tablespoon of coconut oil;
Using a blender, blend ingredients together;
If you like your coffee sweet, add a bit of stevia (not sugar!).
Enjoy!