Eat your veggies, protein and even fruit in one go! A delicious warm winter salad with cauliflower, green lentils and arugula. The best part the dressing that has a little spice from ancho chili and sweetness from maple syrup. Made using a one large sauté pan! Minimal clean up.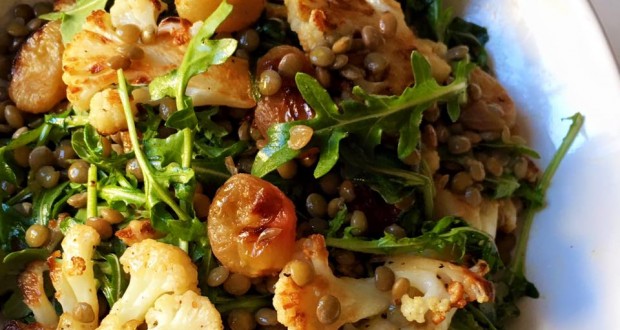 Recipe
1 cup green lentils, rinsed
1 small head of cauliflower, cut into 1 1/2-inch florets

1/4 cup red grapes

1/2 cup plus 1 tablespoon extra-virgin olive oil

1 teaspoon ancho powder or chipotle powder

2 cups arugula, washed and dried

Kosher salt

Freshly ground pepper

1 tablespoon fresh lemon juice

1 tablespoon maple syrup
In a large sauté pan, combine the lentils with 2 cups of water and bring to a boil. Simmer for 25 minutes. Season with salt and pepper; toss to coat. Set aside.
Toss cauliflower with the 1/4 cup of olive oil salt, place in a single layer in the sauté pan cook 10-12 minutes till golden brown and tender.
Next 1/2 tablespoon oil to the pan, add grapes to sauté pan and cook till tender.
Place lentils, cauliflower, and arugula in a bowl season with salt and pepper. Add olive oil, lemon juice, maple syrup and ancho chili powder. Mix well.