If you decide to cut some calories, and cook something very healthy, you are on the right place. Today on the menu we have roasted combination of cauliflower with turmeric which is very delicious and rich with healthy nutrients.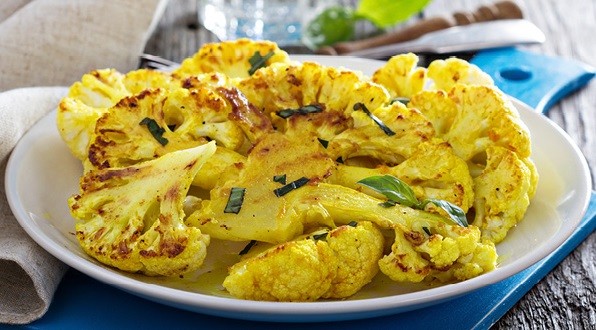 Without having doubts, turmeric can be combined with the nutty and sweet taste of cauliflower. Children often avoid cauliflower, but this recipe is the best way to introduce this amazing vegetable to their diet.
This recipe is great hit among cooking lovers on the social networks. Black Fitness Today, suggests that winter is perfect time for this recipe. Serving warm is recommended, it increases the positive mood and winter spirit at your home.
Facts about the recipe
Cauliflower is amazing vegetable rich in vitamins, minerals, and antioxidants. These compounds causing positive effects on your general health and brain functions. It protects your body from inflammation and cancer.
Turmeric spice has many active compounds in its structure, curcumin is one of them. Curcumin active compound has wide range of health properties (antioxidant, anti-inflammatory and anti-cancer)
Finally, cauliflower combined with turmeric, is rich in flavor and nutrients.

Roasted Turmeric with Cauliflower
Ingredients:
One tablespoon of turmeric
One head of organic cauliflower
Pepper and/or salt to taste (optional)
A pinch of black cumin
Virgin olive or coconut oil
Instructions:
Heat your oven to 400 degrees F
Chop the cauliflower head into small florets.
Put the chopped cauliflower florets in standard baking dish. Add the rest of the ingredients (turmeric, salt, black cumin, some olive oil) and mix them well.
Cover the dish with aluminum foil, to prevent drying of the cauliflower and roast for about 40 minutes.
Keep cooking, without aluminum foil for about 15 minutes.
Many people suggest coconut oil instead of virgin olive oil. Heating virgin olive oil is not recommended, because this type of oil is prone to oxidation and it is best to be used cold. Totally opposite, coconut oil can be heated without worries of oxidation at any temperature.